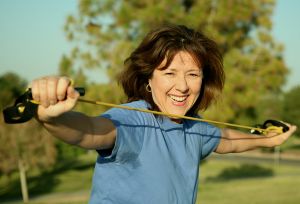 Women's Health
Women's Health Physical Therapy is a specialty that allows more specific treatment for many different diagnoses, specifically related to the female anatomy.
It may come as a surprise to many that physical therapy can be helpful to treat common medical diagnoses, such as incontinence, pelvic pain, prolapse, pregnancy and post-partum injuries/pain, and breast cancer.
Women's Health Physical Therapy involves the same concepts as all other physical therapy, but with more focus on biofeedback, internal examinations and treatments, trigger point massage, and abdominal/pelvic floor strengthening, depending on the diagnosis.
Women who experience the following can benefit from this program:
Incontinence (Stress or Urge-Urinary)
Pelvic Organ Prolapse
Painful Bladder Syndrome (Interstitial Cystitis)
Pelvic Pain
Pre and Post - Childbearing Conditions
Vulvodynia
Episiotomy Scars
Post-Abdominal Surgery
IBS
Coccyx Pain
Pudendal Nerve Entrapment
Dyspareunia (pain with penetration) and sexual dysfunction.
Megan Wylie
Women's Health Specialist
Megan Wylie was awarded a Bachelor's in Kinesiology from Penn State University in 2013. Megan continued her professional education after Penn State and earned her Doctorate in Physical Therapy from Drexel University in 2016. While at Drexel, Megan completed a specialty rotation in Women's Health where she treated various types of pelvic pain, incontinence, SI joint pain, pregnancy/post-partum, and other pelvic dysfunctions. Through Megan's graduate rotations, she developed a deep interest in Women's Health and has completed advanced training to treat specific urogynecological and pelvic floor diagnoses. She plans to complete her Professional Association's approved board certification in the area of women's health in the upcoming years. In addition to Women's Health, Megan is working toward her Certification in the McKenzie Method of Mechanical Diagnosis and Therapy. Outside of work, Megan enjoys playing tennis, running, and spending time with friends and family.
---
Kalika Agrawal, PT, DPT
Women's Health Specialist
Kalika is a Physical Therapist at Strive Physical Therapy's Voorhees center. She earned a Bachelor's degree in Biology from University of Maryland, College Park and Doctorate in Physical Therapy from Widener University. Kalika has worked in the outpatient setting since 2010 in both Pennslyvania and New Jersey. She is passionate about rehabilitating patients back to their best functional state and restoring injured workers back to work. Manual therapy and soft tissue mobilization is a fundamental treatment approach she
uses with all her patients, along with creating specialized treatment plans aimed at restoring function. She is well versed in treating a variety of diagnosis including orthopedic/neuromuscular conditions, sports injuries, pre- and post-operative conditions, work conditioning/hardening, pregnancy/post-partum and urogynecological/pelvic floor disorders.
Kalika is APTA certified Women's Health/Pelvic Floor specialist and certified to perform Functional Capacity Evaluations.
This program is offered in our Mt. Laurel and Voorhees locations