Specialty Programs
Aquatic Therapy
STRIVE Physical Therapy is offering Aquatic Physical Therapy to accompany the other rehabilitative services they provide. The Aquatic program consists of supervised exercises with one of our Physical Therapists. Swimming is not required as most exercises will be performed while standing in the water using flotation devices or holding onto the side of the pool.
Aquatic Physical Therapy is an alternative form of rehabilitation that is used in conjunction with other traditional outpatient therapies. It uses water as an environment for healing, strength and relaxation. Therapists use the properties of buoyancy, support and accommodating resistance to accomplish goals that would be more difficult to achieve on land.
People suffering from arthritis, fibromyalgia, post-operative conditions, sports injuries, joint, neck and back injuries, musculoskeletal issues, diabetes, obesity, neurologic disorders including: stroke,multiple sclerosis, Parkinson's disease, muscle weakness, or poor balance may be appropriate for this program.
STRIVE's Aquatic Therapy Program is provided at the following locations:
---
LSVT BIG – Parkinson Disease
STRIVE Physical Therapy offers LSVT BIG treatment for patients with Parkinson's Disease and other neurological conditions. Research on LSVT BIG has demonstrated improved motor function in people with Parkinson's Disease following treatment. Improvements include: faster walking with bigger steps, improved balance, increased trunk rotation. LSVT BIG treatment is delivered by our physical therapists who are certified in this method.
LSVT BIG is a standardized treatment protocol which consists of:
Individual 1 hour sessions
Daily homework practice
Daily carryover exercises
BIG THERAPY:
EMPOWERS people with Parkinson's Disease to stay active and keep moving.
RETRAINS your ability to walk with larger more normalized motions.
IMPROVES balance and trunk mobility reducing the risk of falling.
Allows people with Parkinson's Disease to ACHIEVE their potential for improved daily life.


The LSVT Big program is available at our Moorestown, Burlington and Voorhees offices.
See this educational video on LSVT Big.
---
Trigger Point Dry Needling
Trigger point dry needling is a technique using fine monofilament needles to specifically stimulate areas of tight, taught, or painful muscle commonly referred to as trigger points. Everyone has trigger points, but sometimes they can contribute to loss in motion, function and can also generate pain.
Dry Needling is used by various medical professionals to reduce these areas of tenderness and pain acting as a reset to the tissue. This reset helps assist in the normalization of tissue and along with other Physical Therapy interventions, can allow for increased function and a return to your normal activities.
---
The McKenzie Method of MDT
The McKenzie Method of Mechanical Diagnosis and Treatment (MDT)is a reliable assessment process intended for all musculoskeletal problems, including pain in the back, neck and extremities (i.e., shoulder, knee, ankle etc.), as well as issues associated with sciatica, sacroiliac joint pain, arthritis, degenerative disc disease, muscle spasms and intermittent numbness in hands or feet. If you are suffering from any such issues, then a MDT assessment may be right for you!
This program is available at all STRIVE locations.
---
Vestibular Rehabilitation
A Physical Therapist, who specializes in Vestibular Rehabilitation, will evaluate clients suffering from dizziness or balance deficits and perform techniques and/or design an exercise regimen to assist these individuals. People suffering from vertigo, vestibular neuritis, acoustic neuroma, gentomicin toxicity, perilymphatic fistula and post-traumatic vertigo are appropriate for this program.
This program is available at all STRIVE locations.
---
Post Concussive Rehabilitation
STRIVE Physical Therapy offers a post concussive rehabilitation program for the injured athlete or individual suffering head trauma.
Once the referring physician has ordered post concussive therapy, a vestibular trained physical therapist will conduct a comprehensive examination and develop an appropriate plan of care.
The examination may consist of a:
MUSCULOSKELETAL COMPONENT to assess the individuals muscles and joints to determine if there are any limitations or deficits in range of motion, strength or flexibility.
OCULOMOTOR SCREEN to assess an individual's oculomotor (eye) function. The client's eye movements and his/her ability to track objects are examined.
KING DEVICK TESTINGis performed, which is an effective concussion assessment tool and outcome measure. It is an objective, physical method of evaluating physical tracking and saccadic eye movements.
BALANCE ASSESSMENTto determine which aspect of the clients balance system (vestibular, visual, somatosensory) may be impaired.
Clients will engage in an individualized post concussion rehabilitation protocol to address their specific deficit and symptoms. Many will participate in a "graduated return to play protocol" to achieve the goal of returning to full participation in daily activities and sport activities. We will guide clients through the graduated program addressing symptoms such as dizziness, headaches or neck pain and manage any their possible balance, strength or flexibility deficits as well as aerobic deconditioning.
This program is available at all STRIVE locations.
---
Industrial Rehabilitation Program
These services are designed to minimize employee injuries and reportable occurrences, lower employer costs and minimize lost work days. STRIVE Physical Therapy is utilizing OccuPro Systems and Solutions to offer numerous testing and industrial rehabilitation assessments.
These include:
Work Hardening/Conditioning
Functional Capacity Evaluations
Functional Discharge Summary
Functional Progress Notes
Job Demands Analysis
Pre-Placement Post Offer Testing
Return to Work Recommendation Report
On-Site Assessment
OccuPro's functional testing provided at STRIVE Physical Therapy takes into account both psychophysical and kinesiophysical approaches. This allows for an objective, reliable and valid evaluation.
This program is available at all STRIVE locations.
---
Active Release Technique (ART)
ART is a soft tissue system/movement based massage technique used to treat soft tissue injuries muscles, tendons, ligaments, fascia and nerves.
ART is most commonly used to treat conditions related to adhesions or scar tissue in overused muscles.
This hands-on approach allows the practitioner to evaluate the texture, tightness and movement of muscles, fascia, tendons, ligaments and nerves. Adhesions, scar tissue and other restrictions in these abnormal tissues are treated by combining directed tension with very specific patient movements. This technique is successful in restoring normal flexibility and function with individuals of all ages and activity levels.
ART is very effective in treating conditions such as:
Headaches
Back Pain
Carpal Tunnel Syndrome
Shin Splints
Sciatica
TMJ Dysfunction
Plantar Fasciitis
Tendonitis and Other Soft-tissue Inflammatory Disorders
Currently the ART program is available at our Delran, Marlton and Moorestown Clinics.
---
Graston Technique
This innovative, patented form of instrument-assisted soft tissue mobilization enables clinicians to effectively break down scar tissue and fascial restrictions. The technique utilizes specifically designed stainless steel instruments to detect and effectively treat areas exhibiting soft tissue fibrosis or chronic inflammation. The Graston Techniqueis effective because it separates and breaks down collagen cross-links and splays connective tissue, which increases the rate and amount of blood flow resulting in increased cellular activity and facilitates reflex changes in the chronic muscle holding pattern.
This program is available at all STRIVE locations.
---
ACL (Anterior Cruciate Ligament) Injury Prevention Program
The program is designed to decrease the number of ACL injuries, particularly in middle and high school female athletes.
ACL injuries in female athletes are on the rise and studies have shown a well conducted injury prevention program can decrease the incidence of ACL injuries.
Neuromuscular training has been demonstrated to have a significant effect on the reduction of relative ACL injury risk in female athletes in high risk landing and cutting sports such a soccer, basketball, volleyball and lacrosse.
The client will be educated to a highly specific 15 minute training session that replaces a traditional warm-up. The goal of the program is to teach coaches and players strategies to avoid injuries by avoiding vulnerable positions, increasing flexibility, increasing strength, and proprioception.
This program is available at all STRIVE locations.
---
Functional Movement Screens (FMS)
FMS is an effective, evidence-based screening tool that identifies functional limitations, asymmetrics, muscle imbalance and inefficient movements or compensations, which put athletes at risk for injury or compromises optimal performance.
FMS is a grading system that evaluates and documents movement patterns that are key to normal function.
The FMS quickly identifies dangerous movement patterns to be addressed with corrective exercises. It also indicates an individuals readiness to perform exercise so that realistic goals can be set and achieved.
A Functional Movement Screen score is generated to target problems and track progress. Once scoring is completed, an individualized exercise regimen is prescribed to restore proper movement, build strength and improve flexibility.
This program is available at all STRIVE locations.
---
Hand Therapy
Our Hand Therapists are specially trained Therapists who specialize in treating shoulder, elbow and hand injuries. They have the clinical expertise to best manage medical conditions of the hand, wrist, elbow, and shoulder such as:
Carpal tunnel, cubital tunnel, thoracic outlet syndrome, and other nerve entrapment disorders
Tendon and nerve injuries
Sports injuries
Workers' compensation injuries
Rotator cuff injuries
Sprains and strains
Fractures and dislocations
Arthritis
---
Sport Specific Rehabilitation & Training
The Physical Therapists at STRIVE PT have extensive experience in helping athletes return to their pre-injury performance levels. They will design a rehabilitation program to overcome acute injuries and progress to a sport specific training regimen. A program can also be designed for the healthy athlete to prevent the likelihood of injury and improve athletic performance.
This program is available at all STRIVE locations.
Dancers can also benefit from our Sport Specific Rehabilitation & Training. Current research shows a high prevalence of musculoskeletal injuries in elite and collegiate dancers in regards to the ankle, knee, hip and back secondary to overuse and overload. Proper identification and prevention of injuries is critical with physical therapists that specialize in performing arts.
---
Video Throwing Analysis (VTA)
STRIVE Physical Therapy is offering Video Throwing Analysis (VTA) to youth baseball players.
The VTA is used to determine mechanical faults, from wind-up to follow through, which can lead to shoulder and elbow injuries for baseball players. Video is taken from 4 different angles to assess each throw and implement strategies for the athlete to improve pitching mechanics as well as endurance and velocity.

This program is available at all STRIVE locations.
---
Kinesio Tape
Kinesio tape is a thin, porous, and flexible tape designed to mimic the skin and assist with soft tissue rehabilitation. It can be applied to either facilitate a weakened muscle or inhibit an overworked muscle. It also has the capability of improving swelling in joints, especially in knees and ankles, as well as correct joint mechanics to promote health posture.
This program is available at all STRIVE locations.
---
Treatment for Temporomandibular Joint Disorder (TMD)
Individuals suffering from disorders related to the temporomandibular joint will benefit from this specialty program.
This program is available at ALL STRIVE locations.
---
Post-Rehab Performance (PReP) Program
Strive Physical Therapy at the Field House offers their Post-Rehab Performance (PReP) Program.
A licensed physical therapist at Strive will perform detailed functional tests to determine an individual's deficits, limitations, and risk of re-injury on the first visit. The results if these tests will allow the physical therapist to establish goals and a training regimen. Strive Physical Therapy Trainers will implement an individualized training program.
The PReP Program focuses on:
Functional Movement Patterns
Neuromuscular Reeducation
Core stability, as well as development of the ability to habitually engage the core correctly during his/her specific sport.
Upper and lower extremity strength training required for injury prevention, as well as the achievement of maximum sport-related potential.
Speed, acceleration, and mechanically sound multidirectional movement.
Endurance enhancement, both cardiovascular and musculoskeletal.
To enhance this program, Strive utilizes the renowned platform Move2Perform. Move2Perform is the leader in return-to-sport and return-to-work software available today. Move2Perform is a movement measurement and analysis tool that identifies deficits and risk of injury.
---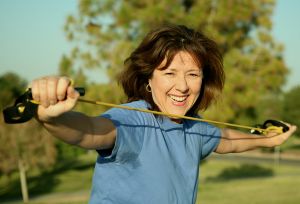 Women's Health
Women's Health Physical Therapy is a specialty that allows more specific treatment for many different diagnoses, specifically related to the female anatomy.
It may come as a surprise to many that physical therapy can be helpful to treat common medical diagnoses, such as incontinence, pelvic pain, prolapse, pregnancy and post-partum injuries/pain, and breast cancer.
Women's Health Physical Therapy involves the same concepts as all other physical therapy, but with more focus on biofeedback, internal examinations and treatments, trigger point massage, and abdominal/pelvic floor strengthening, depending on the diagnosis.
Women who experience the following can benefit from this program:
Incontinence (Stress or Urge-Urinary)
Pelvic Organ Prolapse
Painful Bladder Syndrome (Interstitial Cystitis)
Pelvic Pain
Pre and Post – Childbearing Conditions
Vulvodynia
Episiotomy Scars
Post-Abdominal Surgery
IBS
Coccyx Pain
Pudendal Nerve Entrapment
Dyspareunia (pain with penetration) and sexual dysfunction.
Megan Wylie, PT, DPT
Women's Health Specialist
Megan Wylie was awarded a Bachelor's in Kinesiology from Penn State University in 2013. Megan continued her professional education after Penn State and earned her Doctorate in Physical Therapy from Drexel University in 2016. While at Drexel, Megan completed a specialty rotation in Women's Health where she treated various types of pelvic pain, incontinence, SI joint pain, pregnancy/post-partum, and other pelvic dysfunctions. Through Megan's graduate rotations, she developed a deep interest in Women's Health and has completed advanced training to treat specific urogynecological and pelvic floor diagnoses. She plans to complete her Professional Association's approved board certification in the area of women's health in the upcoming years. In addition to Women's Health, Megan is working toward her Certification in the McKenzie Method of Mechanical Diagnosis and Therapy. Outside of work, Megan enjoys playing tennis, running, and spending time with friends and family.
---
Occupational Therapy
Occupational Therapy helps patients regain the ability to perform daily functional activities and prior life roles resulting from injury or illness.
Our Occupational Therapists are highly trained clinicians who specialize in treating:
Tendon and Nerve injuries
Fractures and dislocations
Sports injuries
Post Surgical Care
Workers Compensation
Arthritic Conditions
Pain Management
Post Stroke Care
Specialized Interventions provided by Occupational Therapists Include:
Flexibility and Strengthening Exercises
Therapeutic Activities
Motor Learning Programs
Joint Protection Principles
Home Exercise Programs
Ergonomic Assessments and Adjustments
Body Mechanics Training
Jason Melnyk, OTR/l, MS, CEAS II
Occupational Therapist
Jason has been a licensed Occupational Therapist since graduating with a Bachelor's (2001) and Master's Degree (2002) in Occupational Therapy from Thomas Jefferson University.
Jason is a Certified Ergonomics Assessment Specialist – Level II, having received these credentials from The Back School of Atlanta, and is trained in administering Pre-Placement Post-Offer Assessments, Job Demand Analysis, and Functional Capacity Evaluations. His areas of clinical expertise are derived from multiple years in an academic health center, acute care, and outpatient service delivery. Jason is licensed in both New Jersey and Pennsylvania and is currently a faculty member for the Thomas Jefferson University Occupational Therapy Program.
Jason and his wife Sara are the proud parents of Madeline and Evelyn. In his free time, Jason enjoys reading, music and spending family time at the beach.
---
Strive Sports Nutrition Coaching Program
SSNCP aspires to provide the public with information pertaining to proper diet & fueling to address their energy needs, fitness goals, and performance goals to create an ideal environment for healing, as well as helping them achieve their ideal body composition.
Poor food selection can hinder an athlete's progress, recovery rate, and ability to perform. SSNCP is a program designed to educate and assist our athletes on making better decisions about what they put into their body so they can perform at an elite level.
Additional services are provided with the program, which focus on injury prevention to keep athletes on the field and off the sidelines.
Functional Movement Screen (FMS)
FMS is the screening tool used to identify limitations or asymmetries in seven fundamental movement patterns that are key to functional movement quality. FMS focuses on individuals with no current musculoskeletal issues and pain complaints.
Selective Functional Movement Assessment (SFMA)
The SFMA is the movement based diagnostic system, designed to clinically assess 7 fundamental movement patterns in those with known musculoskeletal pain.
Y balance testing
As an integral part of Functional Movement Systems, the Y Balance Test is a thoroughly researched, yet easy way to test a person's motor control as well as demonstrate functional symmetry.
Strive is affiliated with Simplex Health and their elite level Registered Dieticians in the event that a patient has a condition that requires more attention from a nutritional aspect.
Christian Filer, PT, DPT, ATC

Clinical Director
Christian Filer graduated from West Virginia University with a degree in Athletic Training. Following graduation, Christian took a job as the Head Athletic Trainer at Holy Cross High School for three years. He then decided to pursue his doctorate degree in Physical Therapy at Temple University and graduated in May 2012. Christian is interested in musculoskeletal/orthopedic and sport related injuries with an emphasis on balance training and return to play. Christian is interested in becoming McKenzie certified and later pursuing certifications in Sport and Orthopedic specializations.
---
Ergonomic Programming
Benefits of Ergonomics Assessment and Training
Reduce workers' compensation and health insurance costs
Improve productivity
Increase employee satisfaction
Benefits an Ergonomic Certified Rehab Professional
Experienced in anatomical causes and prevention techniques
Focused on physical wellness and performance
Able to determine the impact of health conditions
To Discuss Programming Options, Please Contact:
Jason Melnyk, OTR/L, MS CEAS II
Certified Ergonomic Assessment Specialist
Director of Occupational Therapy Services
856-470-9191
---
Workplace Station Design